smart care is a suite of software applications integrated with your Medtech PMS designed to improve the efficiency and safety of patient management.
CareNavigator CareNavigator is digital triage tool for use by patients and nonclinical staff that can safely reduce the number of patients requiring in person appointments
Care Navigator uses patient specific information through high-quality clinical algorithms and risk stratification to provide appropriate advice to patients and ensure patients are safely directed to the correct level of care.
Currently, many patients request to see a GP unaware that they could be seen by an alternative health provider or service. This results in overloaded GP schedules and long patient wait times.
CareNavigator is a patient facing questionnaire. The questionnaire is easy to use and backed by robust clinical algorithms. The application also integrates with the Patient Management System and can therefore "detect" whether the patient has preexisting complex medical issues or is at high risk e.g. they are immunocompromised. Using the data entered by the patient and the data from the Patient Management System, the patient is then directed to the correct appointment type with the appropriate provider or service.

Saves clinical staff time

Enhances routine monitoring improving the speed and efficiency of identifying and tracking trends in patient health

Encourages health care self-management by giving them an easy and fun way to do routine health checks
---

CareKiosk is a self-service clinical measurement kiosk for patients that saves time for busy clinical staff and engages patients
The future of self-service patient health care management
The kiosk allows patients to easily measure blood pressure, height, weight, body composition and O2 saturation with the results recorded directly to the patient's EHR.
Traditionally these measurements were taken by a healthcare professional. Using CareKiosk frees up time for clinic staff and gives patients the flexibility to get measurement checks outside their scheduled appointment times.
The measurements from the Kiosk are sent seamlessly to the patient record allowing clinical rules to be applied to the results. e.g. notification to the patient to get a blood test, or condition specific followup flags for the clinician

Saves clinical staff time

Enhances routine monitoring improving the speed and efficiency of identifying and tracking trends in patient health

Encourages health care self-management by giving them an easy and fun way to do routine health checks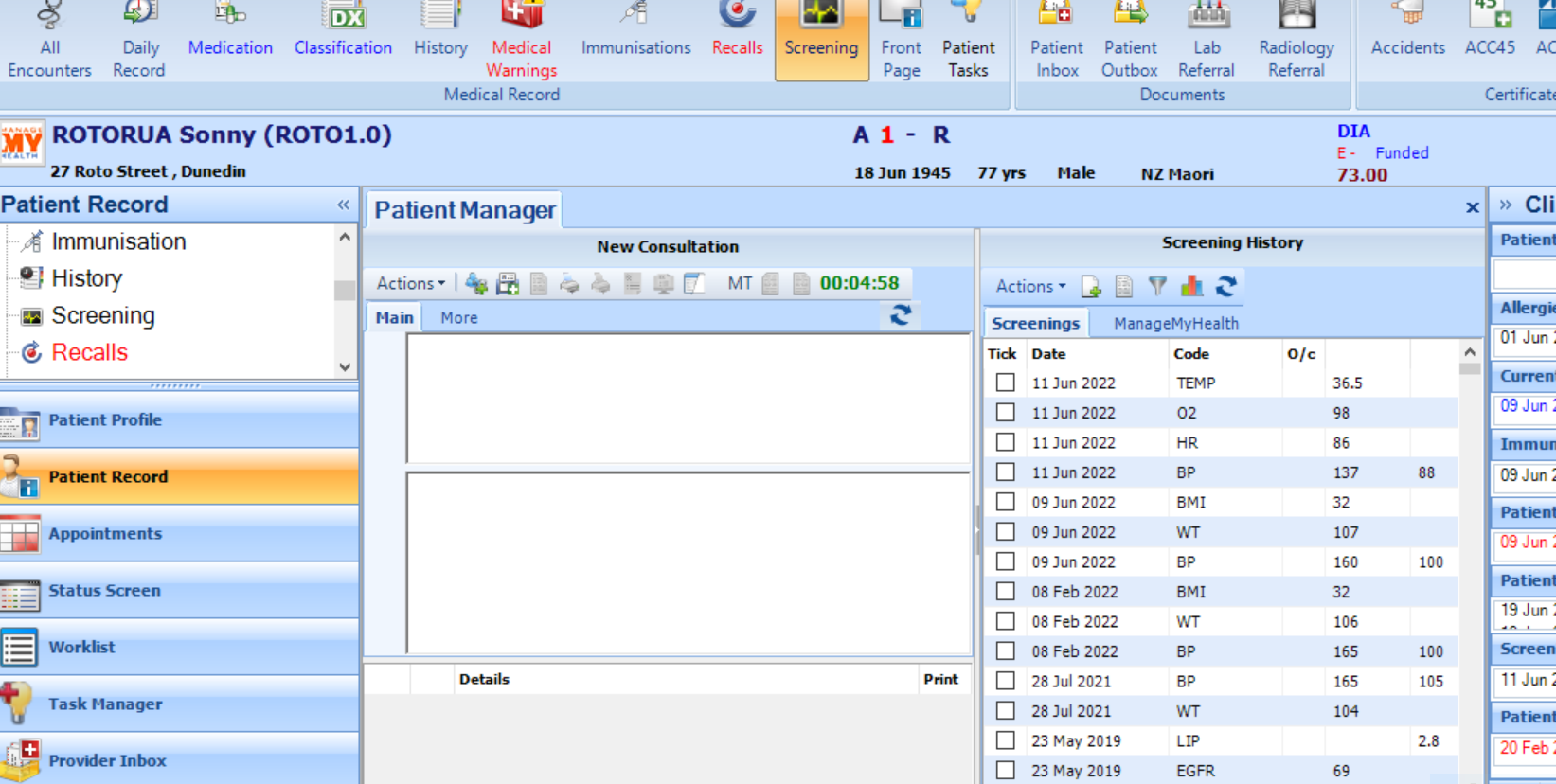 ---

InboxManager uses decision support to significantly reduce the time it takes to manage the PMS Inbox. It features a combination of a clean, easy to use interfaces and clinical smarts to automate and manage the inbox and tasks
---
Patient/Practice InBox - the problem
The workload
GPs spend increasingly large lengths of time reviewing test results, radiology reports, discharge summaries and letters which are delivered to the inbox.
Often leads to doctors working overtime in order to ensure that results are reviewed and acted on
Seeing values in isolation - doesn't allow analysis or trends and the greater clinical context

Can lead to significant results being missed or inappropriately labelled normal

In NZ there were 33 million community laboratory reports delivered to the inbox, cost of 195 mil to review, we can save 50+% of that time and hence cost
Significant improvement in consistency of result interpretation by clinical rule sets being applied using Smart technology (Phase 2)

Saves clinical staff time

Enhances routine monitoring improving the speed and efficiency of identifying and tracking trends in patient health

Encourages health care self-management by giving them an easy and fun way to do routine health checks
---

CareManager ensures stable patients with long term conditions can be well monitored and safely managed with fewer consultations
What is it:
Currently patients are required to see their GP every 3 months for scripts that may not change for many years.
Care Manager is a tool which allow for the management of long-term conditions and or populations groups.
CareManager can operate at individual practice level or central management if and when appropriate.
For example, Care Kiosk is utilized to record blood pressure without a face-to-face appointment. This information is used by Care Manger to automate the generation of scripts and lab request forms efficiently and safely.
CareManager includes contextual forms and questionnaires for recording of patient well being and completes the requirements for seamless prescribing, laboratory ordering and automated monitoring/recall

Saves clinical staff time

Enhances routine monitoring improving the speed and efficiency of identifying and tracking trends in patient health

Encourages health care self-management by giving them an easy and fun way to do routine health checks